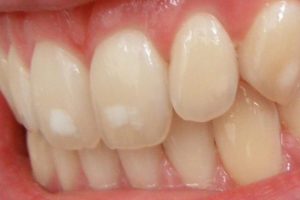 White spots on the teeth can form due to an accumulation of bacterial plaque. This could be the result of poor dental hygiene, such as not brushing or flossing on a regular basis. It can also occur as a side effect of wearing braces. A lot of times white spots are a loss of mineral content in the enamel. This content is a buildup of acidity that comes from the foods and drinks you consume and is a by-product of the bacteria in your mouth. Consumption of carbohydrates creates more acid. Sometimes a white spot is a trauma to the tooth during development. These white sport can be the first evidence of tooth decay because the tooth enamel has been compromised.
What is a White Spot Lesion?
White spot lesions (WSLs), defined as "white opacity," occur as a result of subsurface enamel demineralization that is located on smooth surfaces of teeth. The reason for the white appearance is the changes in light-scattering optical properties of the decalcified enamel. It is the first sign of a cavity. For individuals with braces, these are very common and are the reason that proper oral hygiene is so important when wearing braces. You must be sure and brush and floss around the brackets and under the wires. A proper diet is important. Avoiding sugary drinks that are high in acidity and decreased the consumption of carbohydrates. Be sure and note that braces are not the cause of white spot lesions, but if you do wear braces be sure and maintain proper care of your teeth and monitor diet choices. If you do not follow those rules when braces are removed you may have white spots around where your braces were placed and face tooth decay and staining. Work with your dentist to determine the best course of action for preventing decay and cavities.
Can White Spots Be Removed By My Dentist?
Treatment for white spots will be a visit to your local dentist who can help you get to the bottom of what's causing your white spots, so you can take steps to avoid them in the future. If white spots show as symptoms of underlying tooth decay, your dentist can solve this problem before removing the white spots. There are several factors involved to remove the white spots such as the cause of the spot, size of the spot, deterioration of the enamel, and overall quality of the spots on the teeth. If your situation is one that is easily corrected, one of the easiest treatments is micro-abrasion. Enamel microabrasion is a procedure in cosmetic dentistry used to improve the appearance of the teeth. Like tooth whitening, it is used to remove discolorations of the tooth surface but microabrasion is both a mechanical and chemical procedure. If the case is more serious your dentist may recommend capping the teeth, using a white filling, or applying a veneer.
The goal of modern dentistry is to determine all the risk factors and preventive measures by understanding all mechanisms responsible for demineralization leading to WSLs in order to intervene non-invasively and improve the strength, aesthetics, and functions of your teeth.
Contact us (859) 586-7900 for more information or to make an appointment!
—
About Torbeck Dental
Torbeck Dental treats every patient with dignity and excellent care. We are highly-trained dental professionals with exceptionally friendly and helpful service. We understand that for many, visiting a dentist can be a stressful experience so our comfortable surroundings and compassionate staff will ease any fears you may have. We are here to help you achieve your happiest and healthiest smile! Our dental team are a group experienced professionals using the latest treatments. Our team has the professional experience to realize that there is no such thing as one-size-fits-all treatment, so we never use a one-size-fits-all approach to your dental plan. We provide quality and personalized oral health care while keeping your individuality in mind. Our goal is to improve and maintain your oral health so you can smile with confidence!